This story is the continuation of "A Grandmother's Love." If you haven't read it yet, you can read it here on our website.
Elina raised her four daughters alone after she separated from her abusive, alcoholic husband. Every night, he would get home drunk, demanding food that he had never provided.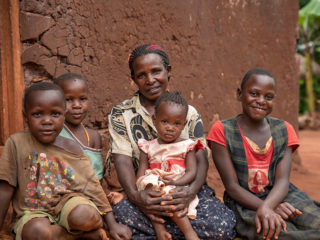 Elina lived in constant fear. When her fourth daughter turned seven, Elina gathered the courage to move on with her life. She worked hard but struggled to earn enough money to educate her daughters. Her daughters eventually dropped out of school and moved away from home to find work as house helpers in other people's homes.
Elina's daughters are now adults and, it seems, are stuck in the generational cycle of poverty. Just as Elina struggled to provide for her daughters, her daughters can't earn enough money to care for their kids. Now, Elina's four grandchildren live with her and she does her best to care for them.
When it was time for her grandkids to go to school, Elina had to sell her all of the produce she had grown in her garden to pay for school fees. As a result, Elina didn't have enough food to feed her grandchildren. As a single person, she could only grow enough produce to eat and a little bit more to sell and meet her family's needs.
When Pastor Vincent of Faithful Wise Steward Ministries met Elina, her grandchildren had already missed one month of school because Elina couldn't afford the tuition. Heart-broken by her situation, Pastor Vincent chose Elina as one of the many destitute families who would receive pigs through Bright Hope's Family Empowerment Initiative. On June 1, 2018, Elina received two adorable piglets. She took such good care of them that eight months later, one of her pigs delivered eleven piglets!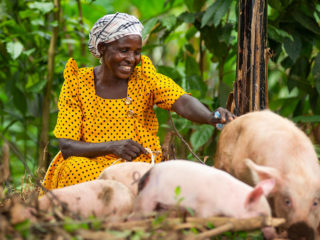 Elina paid back two piglets to the church as the Family Empowerment Initiative required. These two pigs would then be given to empower another family. She sold five of the remaining piglets and used the money to meet her family's needs, pay school fees for her grandchildren, and also buy some pig-care supplies. Elina kept the remaining three piglets and plans to expand her pig farm.
For the first time in her life, Elina has Hope for the future. She is a proud, small business owner and can meet all of her grandkids' needs. And through Pastor Vincent's compassionate outreach, Elina knows that God will take care of her and her grandkids. Elina said, "I am glad I am able to give to my grandchildren what I could not give my daughters. I believe through these pigs, this is my time to achieve what I hoped for in life. We are now able to have three meals a day since I don't have to sell my food to earn money. I am able to pay their school fees on time and still meet my other needs."
Most people see pigs as dirty farm animals. To Elina, these pigs are a chance to take another shot a life.
Filled with a fresh outlook on life, Elina participated in a parenting training class supported by Bright Hope. Now, she spends her evenings talking about the future with her grandchildren. They have such a strong bond that she considers them her most treasured company. "I used to feel lonely in this house, but they cheer me up now. After dinner, they tell me about school [and] I tell them stories until they retire to their beds."
Elina isn't just a good pig farmer but also a loving grandmother. As she looks to the future, Elina has Hope—for herself and for her grandkids.
Article written by Julius Caeser and Malia Rodriguez. Photos by Julius Caeser.