One of Bright Hope's highest values is integrity. We serve people who earn less than $2 a day. We understand the value of every dollar we receive and the difference every dollar can make in the life of someone in extreme poverty. We value the trust you have given us to effectively and efficiently deliver help to those in need.
---
Project Categories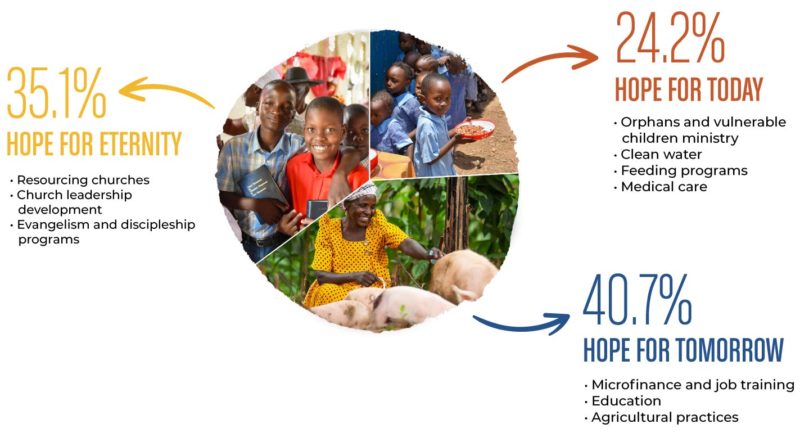 Bright Hope serves the extreme poor through 612 churches impacting 147,469 lives in six countries around the world.
Percentages are based on program dollars invested.
---
Audited Financial Information
| REVENUE | FYE 2020 |
| --- | --- |
| Contributions |   |
| Contributions, Gifts and Grants | $2,779,110 |
| Federated Campaigns | $5,621 |
| Total Contributions | $2,784,731 |
| Other Revenue | $133,081 |
| TOTAL REVENUE | $2,917,812 |
| | |
| EXPENSES | FYE 2020 |
| Program Expenses | $2,090,978 |
| Administrative Expenses | $412,490 |
| Fundraising Expenses | $279,219 |
| TOTAL FUNCTIONAL EXPENSES | $2,782,687 |
| | |
| Excess (or Deficit) for the year | $135,125 |
| | |
| Net Assets | $779,646 |
---
Downloads and Additional Information
View our 2020 Audited Financial Statement
View our Charity Navigator rating
View ECFA requirements for membership
View our Policy on Suspected Misconduct,
Dishonesty, Fraud, and Whistle-blower Protection