Sometimes it's hard to feel thankful. When you lose your job, your health, or a loved one to an incurable disease, grief can feel suffocating. Just like a fire that dies without oxygen, gratitude often gets extinguished when pain and loss consume our lives.
But it's especially tough to feel thankful when even the tiny income you had slips away.
For the millions of extremely poor families who scratch by on less than $2 a day, the pandemic that seems to rage on and on has caused even more devastation. Many families in the communities where Bright Hope works have had their incomes cut in half! (Have you ever tried to live on $2 a day? Can you even imagine trying to survive on $1 a day?)
How can someone with almost nothing possibly live with gratitude?
Over the years, as we have gotten to know extremely poor Christ followers around the world, one characteristic seems to describe them—thankful! Maybe they have discovered a secret that eludes many wealthier believers in the West…that eternally focused gratitude fuels Hope and joy today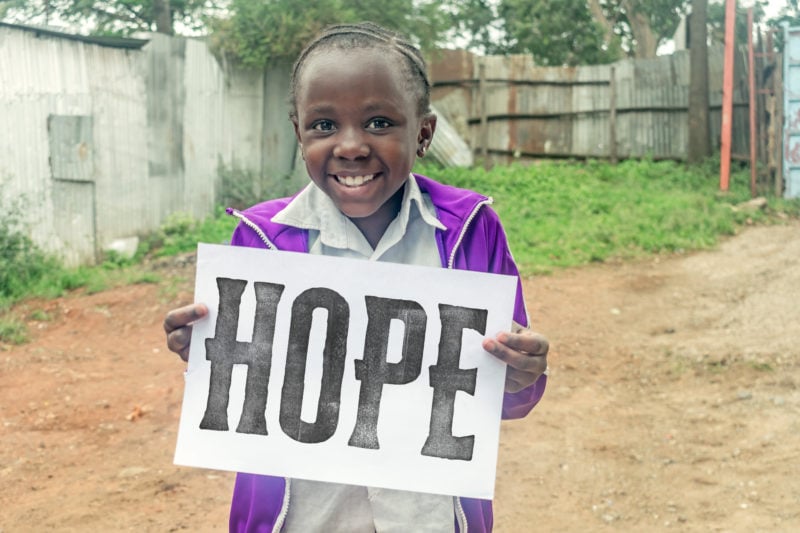 As Thanksgiving comes and goes, many of us will continue to struggle with feeling thankful every day—no matter what circumstances come and go. Whether we live with abundance or absence, believers from America to Zambia have the same source of Hope and the same enduring reason for gratitude—our inheritance in heaven, kept safe by God Himself.
In the middle of an excruciating pandemic of persecution in the first century, the apostle Peter shared the amazing Hope that can stoke the fire of gratitude no matter what you're going through.
"Blessed be the God and Father of our Lord Jesus Christ! According to His great mercy, He has caused us to be born again to a living hope through the resurrection of Jesus Christ from the dead, to an inheritance that is imperishable, undefiled, and unfading, kept in heaven for you, who by God's power are being guarded through faith for a salvation ready to be revealed in the last time." 1 Peter 1:3-5
Peter, writing to Christians living under the oppressive Roman Empire led by the psychotic, cruel Emperor Nero, points us all to our inheritance in heaven. That was the truth believers in Peter's day (and in ours) really needed to hear when they lost their jobs and friends, and fellow Christ followers were being martyred in horrible ways.
"In this you rejoice, though now for a little while, if necessary, you have been grieved by various trials, so that the genuineness of your faith—more precious than gold that perishes though it is tested by fire —may be found to result in praise and glory and honor at the revelation of Jesus Christ." 1 Peter 1:6-7
Suffering is like a sieve, shaking out the things that don't really matter so we're left with the things that do.
Even though pain, disappointment, and loss in this life can cloud our vision and feel final, they're not. For believers with plenty and believers with nothing, our Hope is the same—resurrection life and our eternal inheritance in heaven.
In comparison to the ocean of eternity, our life on earth is like a tiny drop of water. Though pain and grief are real, they are not final.
"He will wipe away every tear from their eyes, and death shall be no more, neither shall there be mourning, nor crying, nor pain anymore, for the former things have passed away." Revelation 21:4 (see also Isaiah 25:6-8)
This Thanksgiving (and every day afterward!), let's focus our thoughts and our Hope on our absolutely secure future—especially when our todays are filled with uncertainty.
"Though you have not seen Him, you love Him. Though you do not now see Him, you believe in Him and rejoice with joy that is inexpressible and filled with glory, obtaining the outcome of your faith, the salvation of your souls." 1 Peter 1:8-9