"So many books, so little time," is how I go through life. But even though I've got a backlog of everything I hope to read, somehow I still always keep an eye open for a good book recommendation. Maybe you're looking for a few new suggestions too this summer.
Some of these are memoir-type stories and easy reads, while others will grow your knowledge. Whether you're trying to understand more about global poverty and God's call to us as Christians to reach out to the poor (The Hole in our Gospel), or just looking for a good laugh (Love Does), I'm sure there's a book here for you.
I asked our staff (a friendly, knowledgeable bunch) for recommendations and I've included some comments from them about the books they suggested—because word-of-mouth referrals are always the best.
Happy reading!*
---
"A heartwarming and inspiring story of a young person wanting to change his world by using his scientific, curious mind." –Henry Chu, Field Advocate
William Kamkwamba was born in Malawi, a country where magic ruled and modern science was mystery. It was also a land withered by drought and hunger. But William had read about windmills, and he dreamed of building one that would bring to his small village a set of luxuries that only 2% of Malawians could enjoy: electricity and running water. With a small pile of once-forgotten science textbooks; some scrap metal, tractor parts, and bicycle halves, he embarked on a daring plan to forge an unlikely contraption and small miracle that would change the lives around him. The Boy Who Harnessed the Wind is a remarkable true story about human inventiveness and its power to overcome crippling adversity.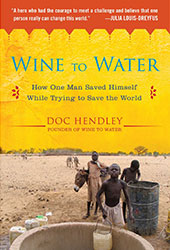 "After reading Doc's book it gives you a whole new perspective about water and how precious it is to get it." – Henry Chu, Field Advocate
The captivating story of an ordinary bartender turned humanitarian who's changing the world through clean water. 
Doc Hendley never set out to be a hero. A small-town bartender, Doc loved his Harley, music, and booze. Then he learned about the world's water crisis and decided to help by hosting fundraisers. But he wanted to do more and soon found himself traveling to one of the world's most dangerous hot spots: Darfur, Sudan. Doc was immediately cast into a crisis zone. The Sudanese government was wiping out entire villages through horrific state-sponsored genocide—and one of the chief weapons was water. At just twenty-five years old, Doc was inexperienced, untrained, and in constant danger—but he stepped up to save lives and began drilling and repairing wells. Wine to Water is his story about braving tribal warfare in far-flung regions of the world, and an inspirational tale of how one ordinary person can make a difference.
"It was a great book on listening to God and being obedient to just taking the next step in faith to help someone. His plan is always bigger and more amazing that I can imagine. Even if I don't get to see the outcome this side of heaven, obedience is worth it." – Liz Camp, Strategic Partnership Coordinator
Injustice, sexual abuse, and sex-trafficking are global issues, pushing migration and causing humanitarian crises around the world. Honduras, known as the deadliest place for women on Earth, is pushing an immigration crisis at our U.S. border because of gangs and violence against women, children and other vulnerable groups. Gracie Murphree shares her life on the front line of this battle against violence, gangs and corruption in Honduras during the last fourteen years and how God's heart for justice is what motivates her and her husband to continue—even in the face of possible death.
"One of my Top 10 favorite books that I've ever read. You will laugh hard and be deeply inspired. – Sarah Marchmont, Mutual Transformation Associate
As a college student he spent 16 days in the Pacific Ocean with five guys and a crate of canned meat. As a father he took his kids on a world tour to eat ice cream with heads of state. He made friends in Uganda, and they liked him so much he became the Ugandan consul. His grades weren't good enough to get into law school, so he sat on a bench outside the Dean's office for seven days until they finally let him enroll.
Bob Goff has become something of a legend. What follows are paradigm shifts, musings, and stories from one of the world's most delightfully engaging and winsome people. What fuels his impact? Love. But it's not the kind of love that stops at thoughts and feelings. Bob's love takes action. Bob believes Love Does. Light and fun, unique and profound, the lessons drawn from Bob's life and attitude just might inspire you to be secretly incredible, too.
---
If you enjoy fiction:
"A wonderfully written and humorous story about community development in Kenya and the cultural context for social change." – Henry Chu, Field Advocate
Kochia, a sleepy community on the shores of Lake Victoria in Western Kenya, is caught in the turmoil among traditional ways of life, excitement brought about by development projects and the throes of relentless globalization. Cows are drowning in enormous holes dug by white people. Girls are dropping out of school and children are being rented to orphanages. Crusades and miracle services are blurring the lines between religion and crime. It is time for direct and decisive action. Obongo, Okello, Sister Phoebe and friends unravel the complexities of community challenges and design practical solutions to address them. From cardboard coffins to toothbrush currencies, the solutions are simple, frugal and ingenious. The fictitious Kochia Chronicles weave a compelling web of concepts, approaches, facts, statistics, norms, musings, and emotions that bring to life the paradoxical simplicity and complexity of development challenges, with the objective of informing and inspiring innovation.
---
If you want to learn about poverty and the best way to help the poor:
"This book is way more interesting than its summary! If someone has an interest in 'making a difference,' community development and alleviating poverty in third world nations, I would highly recommend this book. It's not too heady or academic—I absolutely loved it." – Sarah Marchmont, Mutual Transformation Associate
Encouraging Christians to love their neighbors, the president of World Vision examines the manner in which worldwide poverty is handled and how it must be changed and inspires individuals to reach out by using their time, talent, and money.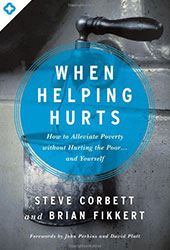 Poverty is much more than simply a lack of material resources, and it takes much more than donations and handouts to solve it. When Helping Hurts shows how some alleviation efforts, failing to consider the complexities of poverty, have actually (and unintentionally) done more harm than good. But it looks ahead. It encourages us to see the dignity in everyone, to empower the materially poor, and to know that we are all uniquely needy—and that God in the gospel is reconciling all things to himself. Focusing on both North American and Majority World contexts, When Helping Hurts provides proven strategies for effective poverty alleviation, catalyzing the idea that sustainable change comes not from the outside in, but from the inside out.
I like both When Helping Hurts and Helping Without Hurting because they put in simple terms the effects of how we see and respond to those living in poverty through short term teams—and the impact of that. – Cindie Gillie, International Partnership Director
Helping Without Hurting: Short Term Missions Leader's Guide is aimed at the preparation and debriefing of short-term missionaries. With direction for designing STMs well in light of the principles of When Helping Hurt, practical examples from short-term trips to illustrate those principles, and suggested resources for further learning and implementation, this guide is an all-in-one manual for leaders. Plus, it shows the content of the participant's guide with annotation and teaching notes to guide leaders as they facilitate sessions with participants.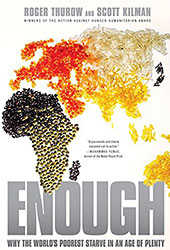 For more than thirty years, humankind has known how to grow enough food to end chronic hunger worldwide. Yet in Africa, more than 9 million people every year die of hunger, malnutrition, and related diseases every year—most of them children. In this powerful investigative narrative, Wall Street Journal reporters Kilman & Thurow show exactly how, in the past few decades, Western policies conspired to keep Africa hungry and unable to feed itself. Enough is essential reading on a humanitarian issue of utmost urgency.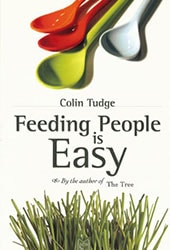 The message of Feeding People Is Easy is the most important that can be conceived. At the moment 38 million people across Africa are at risk of starvation, yet with a major change in our thinking, the world can be fed forever—without cruelty to livestock and without wrecking the planet. If we do the job properly, we will create human societies that are truly agreeable, cooperative, and at peace-societies in which all manner of people with all kinds of beliefs and aspirations can be personally fulfilled.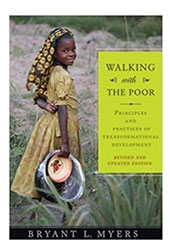 In this revised and updated edition of a modern classic, Bryant Myers shows how Christian mission can contribute to dismantling poverty and social evil. Integrating the best principles and practice of the international development community, the thinking and experience of Christian nongovernmental organizations (NGOs), and a theological framework for transformational development, Myers demonstrates what is possible when we cease to treat the spiritual and physical domains of life as separate and unrelated.
This book does a great job of defining and giving insight into poverty. It helps give a framework and understanding of who the poor are, what poverty is and approaches to transformational development. – Cindie Gillie, International Partnership Director
"An easy-to-grasp presentation for simple farmers that weaves a personal story and technical information together beautifully." – Henry Chu, Field Advocate
Let's Restore Our Land describes how church and community leaders came to realize that the soil that produces our food is becoming weak, and the forests that provide us with many resources are disappearing. They recognized that God has given us the responsibility to care for and protect these natural resources that he has created and allows us to use. Under the leadership of Pastor Simon, the people in the community of Katindi made changes that increased the fertility and production of their soil and began restoring the trees and forest that had almost disappeared. The increased prosperity of the people of Katindi encouraged people in other communities to make similar changes. Restoring their land and forests improved their lives and their nutrition. Written for leaders of communities, churches, women's groups, and schools, the book enables people to discuss and understand problems of the land and forests; it encourages them to consider how God would want them to respond, and it helps them determine solutions for these problems and how to put these solutions into practice.
---
If you want to grow your relationship with Christ and live a life of impact: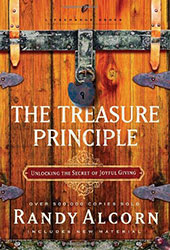 Bestselling author Randy Alcorn introduced readers to a revolution in material freedom and radical generosity with the release of the original The Treasure Principle in 2001. Now the revision to the compact, perennial bestseller includes a provocative new concluding chapter depicting God asking a believer questions about his stewardship over material resources. Readers are moved from the realms of thoughtful Bible exposition into the highly personal arena of everyday life. Because when Jesus told His followers to "lay up for yourselves treasures in heaven," He intended that they discover an astounding secret: how joyful giving brings God maximum glory and His children maximum pleasure. Discover a joy more precious than gold!
This is a great book that calls you out of the status quo Christian life and into pursuing Christlike passionate living. It challenged and inspired me to step into it even when it requires sacrifice. – Liz Camp, Strategic Partnership Coordinator
God is love. Crazy, relentless, all-powerful love. Have you ever wondered if we're missing it? It's crazy, if you think about it. The God of the universe—the Creator of nitrogen and pine needles, galaxies and E-minor—loves us with a radical, unconditional, self-sacrificing love. And what is our typical response? We go to church, sing songs, and try not to cuss. Whether you've verbalized it yet or not…we all know something's wrong. Does something deep inside your heart long to break free from the status quo? Are you hungry for an authentic faith that addresses the problems of our world with tangible, even radical, solutions? God is calling you to a passionate love relationship with Himself. Because the answer to religious complacency isn't working harder at a list of do's and don'ts–it's falling in love with God. And once you encounter His love, as Francis Chan describes it, you will never be the same. Because when you're wildly in love with someone, it changes everything.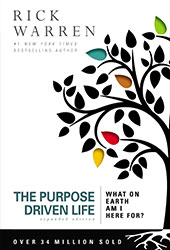 The New York Times #1 bestselling book by Pastor Rick Warren that helps you understand the purpose of your life. It's far more than just a book; it's the roadmap for your spiritual journey. A journey that will transform your life. In The Purpose Driven Life you'll find the answers to three of life's most important questions:
The Question of Existence: Why am I alive?
The Question of Significance: Does my life matter?
The Question of Purpose: What on earth am I here for?
Living out the purpose you were created for moves you beyond survival or success to a life of significance – the life you were meant to live.
---
Any of these pique your interest? I've got several here that I'd love to read. Hey, if you have any others you think we should know about, please leave a comment on our Facebook or Instagram post, or send us an email at info@brighthope.org.
*One quick comment: the links and descriptions are from Amazon, but these are not affiliate links and we do not receive any benefit (financial or otherwise). However, if you shop through AmazonSmile and choose Bright Hope International (https://smile.amazon.com/), Amazon will donate 0.5% of the price of your eligible purchases to Bright Hope.
Oh, and one last disclaimer: some of these descriptions have been edited down for length.