Watermelon is probably not what most of us will find at our Thanksgiving tables this Thursday, but it might be what you'd eat in Kenya this week, and it's definitely something we're thanking God for.
Why? Because these pictures here show you our farm project's FIRST HARVEST in rural Kenya.
Do you see this dirt?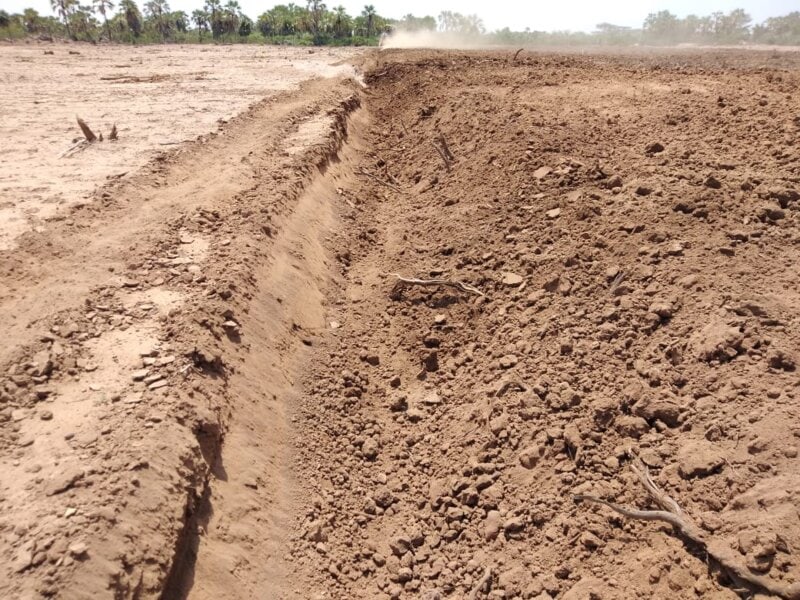 This landscape has been transformed to this…
Yes, we are rejoicing with gratefulness this Thanksgiving week!
Do you have a minute for a little backstory to understand why this is SUCH.A.BIG.DEAL?
Turkana, Kenya, is a drought-riddled land. At times, hunger is commonplace. The remote tribal people are primarily pastoralists—meaning they raise animals as their main source of food and income. Some of them still maintain a nomadic lifestyle. Only in the last decade or so have they even allowed their boys to go to school instead of spending their days herding the animals.
But then, when a drought comes, the animals die—and the people lose both their source of income and food.
It's a devastating cycle.
What can be done to help these people, steeped in such strong traditions and ways of life, to survive? To not go hungry for months at a time? To not rely on outside relief aid food?
Farming.
Farming has the potential to change everything. But mindsets would need to change to embrace the concept of growing food. And crops would need water to survive—especially during a drought.
So we've worked long and hard with our local partner church and with the local Turkanas to turn this dream of a farm into a reality.
We drilled a well.
We installed solar panels, fences and drip irrigation systems.
We linked arms with others.
We trained the local farmers—mostly women—how to compost and plant all sorts of fruits and vegetables so they can grow their own food, ride out the dry seasons, and be self-sustainable.
We were sent a video from the Natoot farm capturing the powerful moments of our partner pastor, Rev. Muya, taking of the bountiful produce and thanking God. "Let's bless the first harvest of this farm," he said, and proceeded to pray:
"Heavenly Father, in the name of Your Son Jesus Christ
We give You thanks
For all this work since we begun,
Together with those that you instilled love in their hearts,
That they may come and help us,
Even to train and grow these crops,
To be as it is today.
Bless those who drilled water for us,
Bless those who gave money for the drilling.
All the work that has happened here, may You bless."
What a special, significant moment. We love this. We also give thanks and celebrate with Rev. Muya and the Turkana community of Natoot!
And, I'll bet you can't help but smile and sing "Alleluia" as you witness the joy of the first harvest in this little video clip below.
Yes, thank You, God, for watermelons…
Happy Thanksgiving!