I was wandering through an arts and crafts store not too long ago and found a great piece of wood wall art that would be perfect for my home. It was the right size, a beautiful red color, and had pretty script and detail. It was $30. And 50% off. And I loved it… $15 really was a good price.
But it was definitely in the "want" category and not the "need" category when it came to my debit account, which was particularly suffering that month. I'm sure Dave Ramsey would not have approved of the purchase.
I spent the rest of my time in the store undecided about whether to buy it or not. Ultimately, I put it down, opting to make the financially wise decision.
However, through an unexpected turn of events, I was given a $10 gift card to the store and that, with another coupon, made the couple-dollar spend totally justifiable.
Yesss.
I love it when I get a great deal. It makes me enjoy my purchase even more.
It's common for many of us to try to stretch our money as far as possible and to spend time weighing a potential purchase. Money is hard-earned. We ask, "Is fill-in-the-blank worth it?"
A $15 piece of wall art—even without the extra coupon—was not a bad purchase. But, whatever the amount, we are always having to make decisions about what we're going to spend our money on. Even if it's all in the "need" category, we still have ranked priorities within that.
I think $15 can do a lot. And I've been spending time thinking about it—and not just in terms of home décor. We're launching a new monthly giving program centered around a $15 a month gift.
In my world, $15 can buy me a new sweater, a meal out, or, if I shop the clearance section at Shoe Carnival, a new pair of shoes.
But in other parts of the world, in the countries where we work, $15 can do a whole lot more.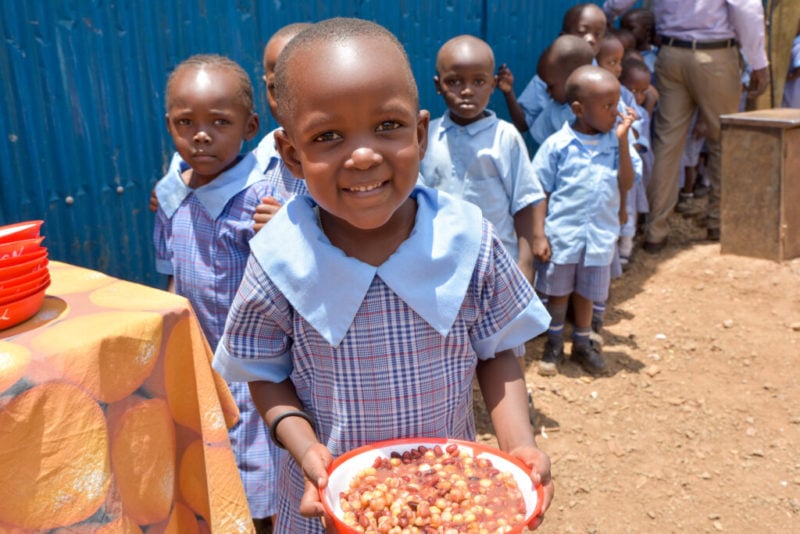 • $15 can feed a Kenyan student in the slums two meals a day for an entire month.
I visited these children and saw this feeding program in action some months back. I took this picture (above). I talked to the school's headteacher who said malnourished children make a big turnaround just three months after being a part of this program.
Think about how little food they must've been getting at home, for this to make such a big impact on their lives…
That is something worth investing in. Something that will truly make a difference. Something worth spending $15 on.
• $15 can provide two Bolivian mothers with medical care and medicine.
• $15 can give a family a couple of chickens…which gives them an ongoing source of nutrition and income.
Fifteen dollars can do. so. much.
If you want to see what else it can do, and if you think you have $15 a month to invest in changing lives and fighting extreme poverty, you can find out more about our new program, Impact, right here.