The Power of a Single Scholarship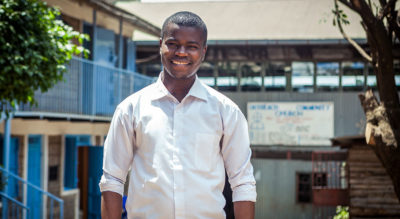 Ben is a friendly young man who is quick to smile and has an easygoing personality. But when he talks about his late parents, his smile fades and there is a sadness in his eyes.   
Looking at Ben and his happy countenance, you wouldn't guess the hardships he has experienced in his twenty-six years of life. He currently works as a field officer at Savings for Life—a microfinance program sponsored by Bright Hope—but had he not received a school scholarship years ago through his local church, his life could have looked drastically different.  
The firstborn in a family of seven living in Nairobi's Mathare slum, Ben lost both his parents in his teenage years. 
"My mother was always very sickly," he says. "Rumor has it that she was infected with HIV… the medications didn't make her better, [and she] passed on soon after, leaving us in the care of our dad."  
His father left him in the care of a relative and when his new guardian could not support him, he found himself on the streets.  
Ben began to look for help within the community and through a friend found a place at the Mathare Community Outreach Secondary School, supported by Bright Hope. 
Ben had to walk about 3 miles each way to school every day but his hard work paid off and he graduated from high school, and soon afterward a discipleship program.  
After his graduation, Ben found a job but his contract ended and he desperately needed a new source of income. Shortly after, Ben joyfully discovered he was selected to receive a Bright Hope scholarship through his local church. 
"Finally, I felt light had come into my life," he said. 
With this support, Ben completed a course in business management, successfully graduating after two years. Now he works as field officer with Savings for Life which has enabled him to improve his circumstances. 
Ben is currently taking an accounting course at a local college and is able to pay for his own fees. He has also moved from the Mathare slums to a nearby home.  
While the scholarship improved many aspects in Ben's life, it also had a ripple effect on his family too. Getting a steady job meant that he could help support his siblings financially who rely on him as if he were a parent. 
 "I pay school fees for my younger brother who is in high school," he said. Ben also paid for another brother's courses so he could become a mechanic. Now his brother has a reliable job working in a local garage.   
"I am glad to share with [my siblings] the little that I have," he said. "It gives me satisfaction to see them progress in life."  
Ben wants to be a financial analyst in the future and has a long-term dream of becoming a politician. His deepest desire is to serve his country and be a witness of Christ through Godly leadership. 
"I believe that God would want His people to lead the nations," he said.  
Ben is filled with gratitude for all the people who helped to make his scholarship possible. He realizes that without this opportunity he may have remained on the streets and been unable to continue with his studies. 
"[This] scholarship has given me the opportunity to brighten my future," he said.   
"There are many great minds out here that lack opportunity… [but] when you support the needy you bring hope to the hopeless."  
Without the support of generous Allies, Ben might never have finished school or been able to become a field officer working for Savings for Life, a Bright Hope-sponsored program.
Youth like Ben who stay in school are more likely to get steady jobs, improve their standard of living and invest back into their communities. Something as seemingly simple as a school scholarship can have a positive impact on many…helping an entire family or even community.  
Won't you make a gift today which will ensure other children have a chance to stay in school and finish their education? Your gift has the power to change not just the life of a scholarship recipient but the community around them too.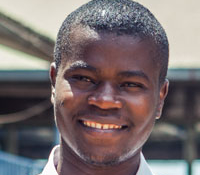 The Power of a Single Scholarship