Give a Girl a Fighting Chance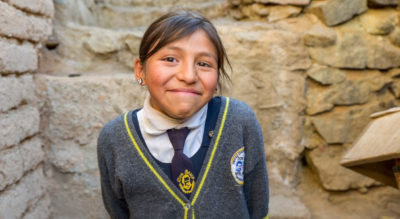 Spunk. Strength. A mischievous sparkle in her eye, perhaps? 
There's something about 10-year-old Marycruz that seems to whisper, "She's a fighter." In a good way. And she needs to be. 
This little Bolivian girl's father died two years ago, and she and her mother and little brother Joel are fighting to survive. Her father worked in the mines, but contracted a lung disease and was sick for years. Near the end of his life, he weighed only about 100 pounds. And even before that, he'd spent time in jail for driving without a license and accidentally hitting an elderly man…who ended up dying. 
Since losing her father, Marycruz's mother Agustina has been struggling immensely with physical, emotional and financial challenges. Agustina cried much of the time as she shared her story, sitting on a bed in her home, wiping her face with a yellow t-shirt.  
There is some flour and a couple large sacks of potatoes in Marycruz's home, but her mother says that's all she has to feed Marycruz and her little 4-year-old brother from now until the end of the year. And this was only September. 
But Agustina is so grateful for the children's care center that Bright Hope supports at Hosanna Church because Marycruz receives a snack and a hot meal there three days a week. Sometimes, Marycruz even brings food home for her mother to eat. And in the mornings while Marycruz is at school, Agustina takes little Joel to the church's center too. 
After Agustina's husband died, she was very, very thin herself, maybe even weighing less than her lean husband. All of last year she went to the church and received help. "I don't know what I would do without you," she said. 
Pastor Cleto of Hosanna found out about Agustina and her children from others in their Spanish-speaking community. Yet Augustina speaks Quichua, a native language, and not everyone can communicate with her. "Pastor Cleto," they said, "you should go because, you can speak in Quichua, you will understand her better." 
So Pastor Cleto and other members of the church started looking for her. They found her, developed a relationship with her, started taking the three to church, and the church provided as much help for them as they could.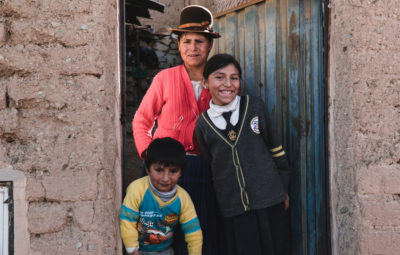 Agustina, Marycruz, and little Joel would have tea and bread at the church for breakfast, and a heartier meal later in the day. Agustina started gaining weight and was able to work. Families in the church would give Agustina a little rice or sugar so she could feed her children. Though sometimes she still feels too weak and sick to work, other times she is able. 
Pastor Cleto and some church members also helped her find a new place to live, and it's not too far from the church. 
Pastor Cleto encourages Agustina to come to the church anytime. If she is hungry, she can go. She can help with the children, she can help peel potatoes—and she will always have hot food to eat and hot tea to drink. She is told she should not be afraid to ask, but should just go and receive: the open invitation is there. 
Last year, Agustina found salvation in Jesus Christ. She says Wednesdays are her favorite day of the week because there's a women's church meeting that she loves to attend. 
"I am happy because here [at home] I am always crying, but when I go to the church, I am happy," she said. 
At home she feels sick, tired, and doesn't even want to eat, but she likes to go to the church and talk with the people there and see her children playing. 
"Thank you, Pastor, for being here, because without you I don't know who else is going to help me," Agustina said. "You are the only one who defends and protects me." 
When she was just seven years old, her own mother left her. From a very young age she learned how to work the land through sowing and harvesting. Now, because Pastor Cleto has a lot of land at the church, he plans to give her a small plot so she can grow potatoes and peas and other vegetables that will benefit the church and give her more food for her family. 
"As a church, we do not want to be inside the four walls of the church, but to reach outside," Pastor Cleto said, "and when we are doing that we can reach those families and share with them the love of Christ."
Seeing how the church family at Hosanna is supporting and ministering to Marycruz's family is what gives this story Hope. In the midst of grief and severe ongoing challenges, our partners in Bolivia are not letting this family suffer alone. 
Where would Marycruz, her mother, and her brother be without Hosanna Church? Though Marycruz has a place to go three days a week—to receive food, homework help, and spiritual input in a healthy, safe environment—there are still so many children in this community that urgently need nutritional support.  
Would you please give a gift to support vital programs like the children's care center at Hosanna and continue the ministry of Bright Hope in Bolivia and beyond?