During my time in Mabo Kunda, Zambia, I was struck by the hope in the eyes of the community leaders and residents. They felt eager to put into practice the sustainable farming techniques that Bright Hope had taught them. They proudly showed us the crops they had already begun to plant. And they explained how much they had learned in a short amount of time. 
Transformation in Mabo Kunda
The local church leaders felt passionate about their farming work. As a result, they committed themselves to transforming their community. They felt grateful for the partnership with Bright Hope International and excited about the possibilities for their community. Clearly, they saw this partnership as an opportunity to make a significant impact in the lives of families in Mabo Kunda.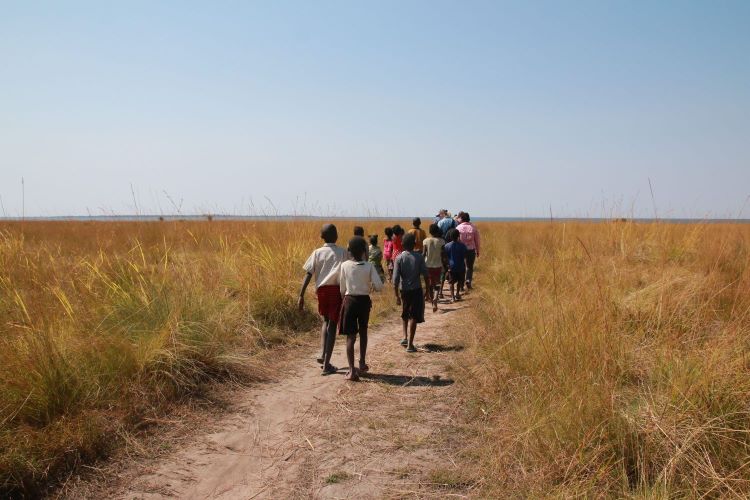 I will never forget a memorable walk with community leaders to the water's edge. When we arrived, they shared their insights with our country director, Mark, about the possible routes for transporting supplies through the water. The joy-filled children in the village followed us along the way. While I attempted to communicate with them in their native language, Bemba, I loved their amused reactions.
However, my efforts paid off when I finally learned one of the most significant phrases, "Yesu Ali ko tem ua," which means "Jesus loves you." Though I knew I wasn't speaking the language perfectly, the reaction on the children's faces melted my heart. All at once, I remembered the reason for my presence there. It reinforced to me the impact of God's love and why it was important for us to continue supporting this community. 
As a Bright Hope team member, the commitment of the community leaders and residents in Mabo Kunda inspired me. They eagerly learned the new farming techniques we had introduced into their community. And they can't wait to see the possibilities for their families and community. And they are willing to work hard to make those possibilities a reality. 
Sustainable Hope in Mabo Kunda, Zambia
Bright Hope strives to equip subsistence farmers with the tools to expand their farms and build sustainable, income-generating businesses. And that's what we're working toward in Mabo Kunda.
Bright Hope's partnership with the local Christian Farmer's Association (CFA) has made a real difference in Mabo Kunda. Soon, we hope to see the cycle of poverty give way to a sustainable future for everyone. Bright Hope doesn't just care about programs and initiatives. We care about building relationships with the people there. We plan to walk with them, listen to them, and empower them to make positive changes in their community. And ultimately, we do all this for the glory of God. 
As I reflect on my time in Mabo Kunda, I am reminded of the hope and possibility that exist in this community. I can still remember the smiles on the people's faces as they shared about their joy to see their communities transformed. I am grateful to have been a part of this work, and I am excited to see what the future holds for the families in Mabo Kunda. Together with the local church, community leaders, and the CFA we will continue to make a lasting impact in this community and bring hope and change to their lives. 
Zambia struggles with high rates of extreme poverty. To learn more about our work in Zambia, click here!