In El Alto, Bolivia, the children's care center is closed for quarantine, leaving families desperate for food and information. 
The Sinai Church in El Alto has been working with Bright Hope since 2019. They run a childcare center that before the quarantine, provided lunch, discipleship, and school support to 45 children in the community. However, because of the pandemic, the church has suspended all its meetings and services to the children. Church leaders were left to wonder and worry, what are these children eating if not the daily meals from the care center? 
Concern for those in El Alto, Bolivia, who are desperate for food
Concern for the families who rely on the church and care center to feed their children weighed heavily on senior pastor Mario Ticona and children's center director Patricia Bautista.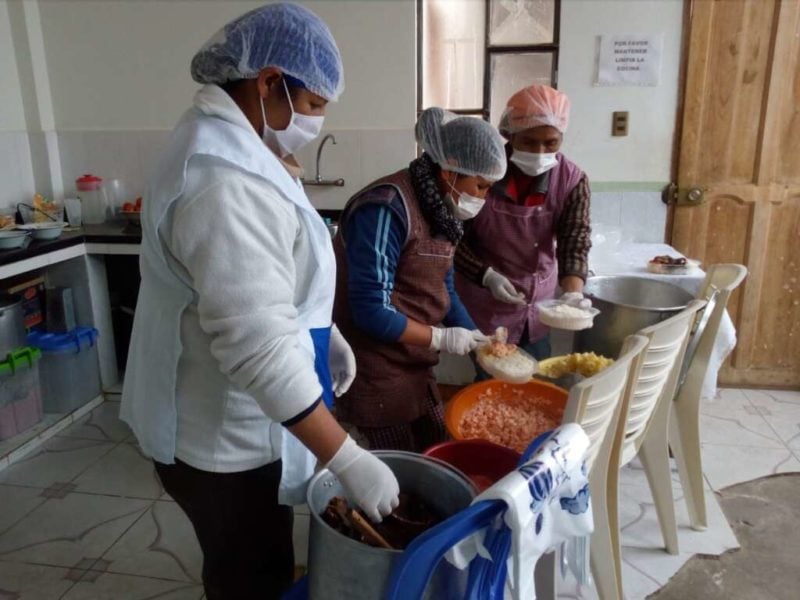 They prayed for a way to bring the Gospel and food to the families from the care center. Soon two teams were going to the church on alternating days to prepare bread and lunches. Early each morning, the team prepares 500 loaves of bread and 150 lunches to distribute to the neediest homes.  
In the first week, thirty-eight families were visited and received lunches and bags of freshly baked bread. 
Of these thirty-eight families, one stood out as especially desperate for food. Sister Patricia Bautista recalls, "We knocked on the door of a house where the neighbors told us that there was a very large family. A young woman named Eugenia opened the door and immediately behind her 7 children appeared. When we explained that we had come to bring them food, she began to cry. One of the children told us quite naturally they'd not eaten all day and had nothing for lunch.
In total there were 12 people (2 adults and 10 children), living in that house who were starving. We washed everyone's hands, distributed the food, and left them a triple portion of bread. Prayers were spoken for Eugenia and her family. Before leaving, we also taught them how to wash their hands, disinfect things, and updated her on the news.
The church is gathering food to continue supporting Eugenia. She and her 11 relatives wait with joy for their new friends. Please pray for families like Eugenia's who are in great need of food and information.
The Quarantine in Bolivia, What's New This Week
Bolivia lifted its total quarantine on May 11. It was up to each department in the country to determine their next step. Options were to maintain the total quarantine or move to levels one or two of a dynamic quarantine.  
For the moment, the authorities of Santa Cruz, Cochabamba, and La Paz all agree. Each has decided to maintain the total quarantine until May 31.  
As of May 12, there have been a total of 2,831 COVID-19 cases in Bolivia, with 2,410 currently ill, and 122 cases resulting in death. 
Cases continue to rise. Santa Cruz, the largest and most dynamic department in Bolivia, has 65% of the cases. Lack of resources for medical equipment, hiring additional health personnel, and distribution of it all have made the pandemic challenging to manage.    
Unfortunately, the departments of Beni and Oruro, which reported very few cases in April, have now exceeded the numbers of larger departments. 
The policy of distributing economic bonds to a large percentage of the population is estimated to cost the government approximately $400 million (USD). Despite this, discontentment from the population that lives off informal trade and transport is increasing, and in cities like El Alto, the population is not respecting the quarantine. 
Bright Hope Partner Churches Acclimate to New Normal
The Bright Hope team continues to work regularly, meeting virtually once a week and connecting with pastors and leaders of allied churches. Currently, the national team is developing a strategy to continue the Ministerial Development Program and is also looking at the best alternatives to resume work with the communities, under current care measures. 
Allied churches continue to distribute bread to families in Bolivia who are desperate for food. Food is being distributed in El Alto, Oruro, Riberalta, Sucre, Vallegrande, and Norte Potosí. 
Read More
Learn more about how COVID-19 is impacting Bolivians. 
Despite COVID-19 Lockdown, Bolivian Churches Reach Out 
Bolivia Update: A Modified Easter, WhatsApp Touchpoints and Food Security