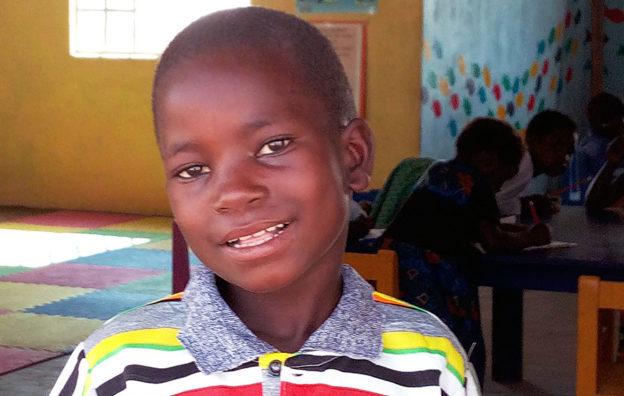 Meshach's mother looks down at him with pride as she helps him dress for school. He's wearing a brightly colored striped t-shirt and is eager to walk to school, located just a half mile from home. His favorite subject is reading. When he gets to class, he likes to wander over to the colorful bookshelves and see if he can find any new books. 
Located at the center of Mbabala Island, the school is next to a lake and surrounded by grassland. Meschach's preschool was the first one to open in the area and partners with the local church to provide education for all children.
When Bright Hope conducted some research across the island, they found that almost none of the children learned literacy skills at home in the first six years of life. Yet children who fell behind in school with reading and writing, were at high risk of dropping out.
In Zambia, youth between the ages of 15-24, have a 49 percent failure rate to complete even a primary education. And rural children such as Meschach are nearly three times more likely than an urban child not to attend primary school.
Six-year-old Meshach has a better chance at thriving in school because he had an educational foundation in his early years. Of his six siblings, he is the first person in his family to ever attend preschool.
His father, Mulenga, had to drop out in grade one because his family could not afford to keep him in school and his mother, Rosemary, was forced to quit school in grade three.
"Even though I did not get much education," said Mulenga, "I want my children to have the opportunity to go to college."
Both of Meshach's parents believed in the project so much, that they volunteered with Bright Hope and their local church to help build their son's preschool by hand. They hope with the opportunity to build basic language skills in the preschool years, their son will have the best possible chance to find better jobs and be able to rise out of extreme poverty in adulthood.
"We have seen a real change in Meshach," said Rosemary.
"When he comes home, he tells us all the things they are learning. I know Meshach will be ready for grade one next year.
The simple, one-room school building has brought hope and the promise of new opportunities for youth on Mbabala Island. Mulenga explains that the preschool has helped get boys in their community like Meshach interested in school. 
"Usually at this age [they] start to get interested in fishing and playing with their friends, but now they are interested in letters and numbers," he said. 
Give a gift today to help support young children like Meschach, ensuring they have the best chance of staying in school. By equipping children with literacy skills at a preschool level, they have better odds of succeeding- not just in school but in life. 
Will you consider making a donation so Meschach and other children living in poverty are able to have the best possible start to their education?