Bolivia – Lucas, a talkative and jovial senior, lives alone in a rented room. He has family but hasn't heard from anyone during the quarantine. The money and food he collected from the government were running out. Where would he get his next meal?
Before long, the people from Betania Church in Oruro, Bolivia, heard about Lucas and some other elderly and disabled folks who needed help. Imagine Lucas' relief when three ladies from the church visited, bringing food.
Lucas listened very carefully as they shared the Gospel and immediately accepted Christ! The women encouraged him to visit the church when the quarantine ended, but Lucas couldn't wait. He insisted on going the next day. True to his word, Lucas went to the church the following day. The pastor prayed with Lucas and the two neighbors he'd brought with him.
Lucas and his neighbors broke the quarantine rules to go to the church. "Yesterday, they brought me physical food, but what I need most is spiritual food. I am very hungry to meet Jesus, and I couldn't wait," he justified.
The number of people reached by Bright Hope's partner churches in Bolivia is pretty incredible, especially when you consider their strict quarantine restrictions. Residents were allowed four hours each week outside their homes. In those weekly four hours, church leaders tended to the needs of their families and also prepared and delivered provisions to the needy.
In some cases, the government allowed pastors to be out longer to collect information or make deliveries. But this was not the case for most.
Amid the fear, hunger, loneliness, and panic, God has been at work.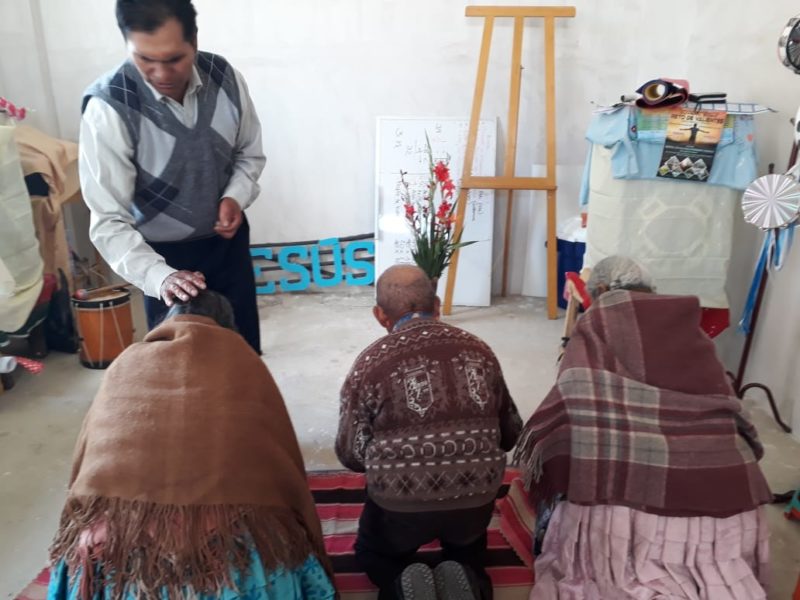 The Poor Receive the Bread of Life
Under the leadership of Munir Chiquie, Bright Hope's national director in Bolivia, Christian institutions provided donations to help those with the greatest need. Using ovens designated for microenterprise programs, four allied churches baked bread. Three times a week, the bread has been given away to needy families. Close to 2,500 families received food from these efforts. When delivering the bread, the church leaders pray for and share the Gospel with those receiving the provisions.
Sixteen People Receive Christ
El Candelero Church is located in an impoverished neighborhood on the outskirts of Riberalta. Residents live on meager earnings and are often hungry. One morning, Pastor Guillermo shared the Gospel with 70 families and gave each a food basket. Sixteen people received Christ during that one Gospel presentation!
COVID-19 Can't Separate Us from God's Love
Coronavirus and its secondary effects are terrible. However, the stories of God at work around the world remind us that there is nothing that can separate anyone from God's love.  
 "For I am convinced that neither death nor life, neither angels nor demons, neither the present nor the future, nor any powers, neither height nor depth, nor anything else in all creation, will be able to separate us from the love of God that is in Christ Jesus our Lord." (Romans 8:38-39)
5/1 Riberalta is a small city along the banks of a river that flows into the Amazon. They have very little access to facemasks. The sisters of Los Amigos Church gathered fabrics and elastic to make masks and gave them to the community free of charge in exchange for an offering of any amount. Everyone knows these masks were made Christians and feels safe and protected while wearing them.