Just imagine… Your throat is parched as the sweltering sun beats down on you. A simple glass of water would soothe your dry mouth and quench your thirst. 
But when you take a drink, bitter, brackish water burns in your throat. And then you worry it might actually make you sick. 
Clean water is one of the basic building blocks of life. Without it, our hearts can't pump blood, our kidneys can't eliminate toxins, and our brains can't function.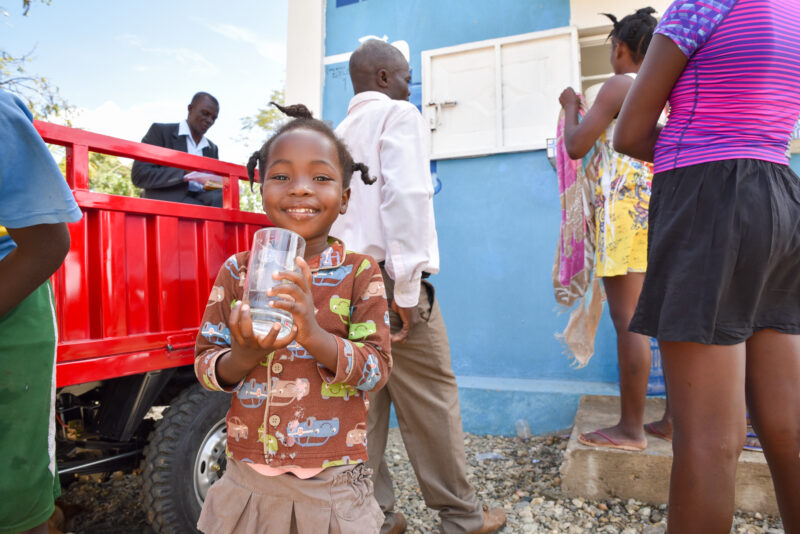 Several years ago, that's what life was like for many people in rural northeast Haiti who only had access to stagnant, dirty water. 
64% of people in rural Haiti regularly drink contaminated water, which can cause gastrointestinal, reproductive, and neurological disorders.

 

37% of Haitian mothers used unclean and unsafe water to prepare baby formula.

 
Sustainable Water Changes Lives in Haiti
But thankfully, Allies such as you enabled Bright Hope to partner with churches in Paulette to build a reverse osmosis water purification system to provide clean drinking water for the community. To distribute clean water, they built a kiosk where individuals from Paulette and the surrounding communities could buy water for their families. 
In addition to the water purification system, the church development committee also created a WASH (water, sanitation, and hygiene) training program that teaches Haitians the importance of good hygiene. The WASH training works to prevent waterborne diseases, which can cause major health problems.  
Because of these two programs, life in northern Haiti has significantly improved greatly for many families. 
Like any program, growing pains can bring to light areas needing strengthening. As a result, Bright Hope has invested additional resources in the following areas to expand the impact of the kiosk: 
Training in leadership, conflict management, and project development 

 

Financial support to maintain the kiosk and build another water supply conduit

 

Preserve and increase the distribution of clean water in Paulette and other communities

 
Now, the kiosk is up and running, providing clean water to residents of Paulette and the surrounding communities.
Recent Accomplishments in Haiti
Look at what our friends in Haiti have accomplished since last October: 
More than 24,172 gallons of purified water have been sold, an average of 710 gallons per week.

 

Three communities, Paulette, Phaeton, and Savanne Carree, and 1,000 people, regularly receive clean water from the kiosk. 

 

The church has generated at least 163,740 HTG ($1,190) in income so far.

 

One job has been created.

 
Jacques Fritzner, a resident of Paulette, has started his own business selling the water he purchases from the kiosk. Before the kiosk opened, Jacques couldn't afford to buy water in a neighboring community because of extremely high fuel costs in Haiti.  
Jacques shared: "I congratulate and thank all those who contributed to the realization of the kiosk. I want the partnership to continue so that the leaders can continue to serve the community." 
Because of you, our Haitian brothers and sisters now know what it's like to drink water without worrying that they will get sick. Not only that, our church partner in rural Haiti is also operating a sustainable business that funds its outreach ministries to the community.  
Please join us in praying that our church partners in Haiti will feel equipped to create sustainable solutions that break the poverty cycle in their communities and share the love of Jesus far and wide! Also, please consider a generous gift to help provide other communities with a source of clean water and provide a path to sustainability.