Have you heard that the number of hungry people in the world is growing? Do you hear that and wonder why it's happening—is it a global food shortage, or people's lack of money to buy food?
I want to briefly dive into the topic of hunger and ways to combat it.
According to the UN, 820 million people, or 1 in 9, is suffering from undernourishment and chronic food deprivation. Nearly all of these people are from developing nations that struggle with extreme poverty.
Children are especially vulnerable to malnourishment and, tragically, 45% of all child deaths under the age of five are caused by poor nutrition. 
Poverty is the main reason people go hungry, however, the UN cites that conflict, drought and disasters are among the key factors for why world hunger has been increasing in recent years.
Addressing this, Bright Hope partners with local, in-country churches to feed schoolchildren in Kenya and Bolivia, and in Haiti we have a Sunday dinner program for the elderly. But since our long-term goal is to equip the families we work with with what they need to consistently put enough food on their tables—and have an income source to provide for themselves—we have agricultural and livestock programs as well. These two are some of my favorite projects that we do.  
Why? Because of stories like Mari's. She's a woman in her 50s who lives in central Uganda. Mari is the main provider for her four children and seven grandchildren, but she was unsure of her future as she faced farming insecurity and crippling pains in her joints. At times she was unable to provide enough food for her family or cover the cost of the school fees for all seven grandchildren.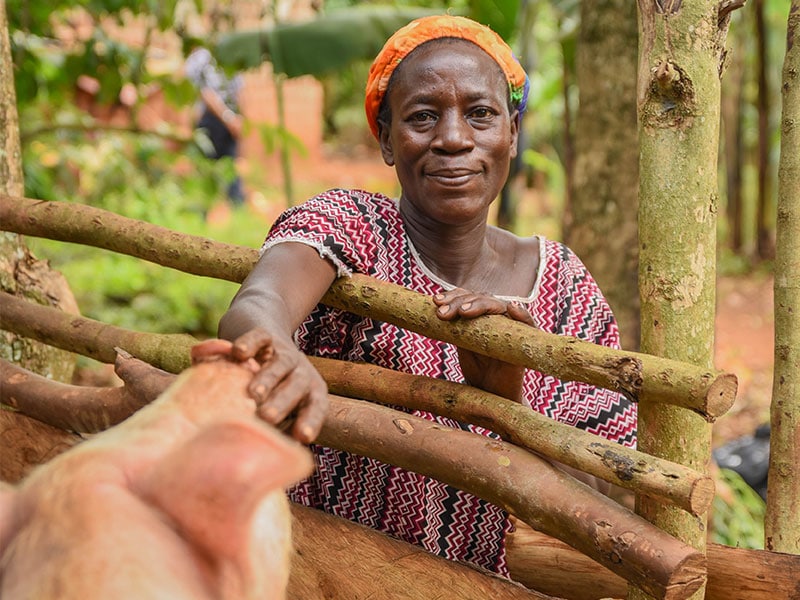 The local church reached out to Mari and invited her to attend agriculture and animal-rearing workshops. Once she completed the trainings, she received a gift of seeds, a pig and monthly support from the church to make sure that the livestock was well looked after.
With this support, Mari successfully harvested her seeds and reared the pig. Not only did it provide enough food for her family so they no longer went hungry, but she was also able to use the surplus to start her own business and generate a larger income. Now all seven of Mari's grandchildren are able to attend school, and she is saving money to receive treatment for her chronic pain.
By working through local churches to meet immediate, long-term and spiritual needs for people like Mari, Bright Hope is not only tackling issues of hunger and food insecurity in the communities where we work, but is also able to help people break the cycle of extreme poverty.
I've walked farms and garden plots, seeing firsthand what amazing things can happen when people are given agricultural training, tools, starter seed, or some livestock—and that's why I believe in these projects so much and call them some of my favorites.