Fahima's Safe Delivery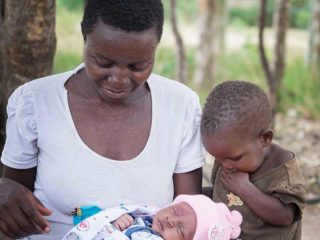 Fahima wanted her second child to be born in a hospital, unlike her first child. However, the challenge was getting the birthing supplies women are required to provide for their own deliveries. But Fahima received a Mama Kit, and that changed everything. When the time came to deliver, she and her husband traveled by bike to the hospital. "This was a new experience, but I had determined to do it. With my Mama Kit on me, I had all the confidence I needed to walk in there," she said.
Globally, around 830 women die from pregnancy or childbirth-related complications every day. With the gift of a Deluxe Mama Kit you can help ensure that women have a safe and hygienic birth environment, while also providing them with a basic, newborn wardrobe.
Elina's New Business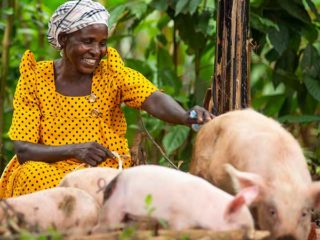 Elina raised four daughters as a single mother in Uganda and is now raising four grandchildren. She was struggling to feed them and pay their school fees. But everything changed when she was given two pigs.
When Elina's pigs gave birth to 11 piglets, she gave two to empower another family, she sold several to get money to pay for things like school fees, and the remaining piglets she kept to expand her herd.
Raising pigs can impact on a family's ability to be independent and self-sustainable. When you give a pig, the recipient also receives monthly training on how to care for it from an expert pig farmer who helps assure the health, safety and multiplication of the animal and the success of the new pig farmer.
Matovu's Happier Marriage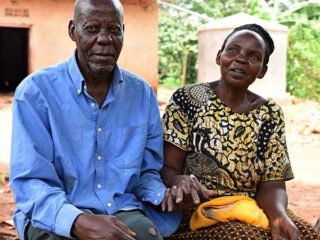 Before they were given a water tank, Matovu's grandchildren traveled far to get water, and they could only carry a little back at a time. "I used to worry about my wife's health; you see, she has high blood pressure and every time we ran out of water it worsened," he explained. "Ever since this tank was built, [I] am a new man and we are a new couple."
Giving someone better access to water changes lives in so many ways—it impacts health, it gives back valuable time that used to be spent fetching water, and it can help improve family relationships. Wells, water tanks, and pump repair are key facets of water access, and your gift of $100 can assist with repairing water pumps and helping prevent water-related diseases.