Emily and her family share toilets and one water faucet with 19 other families.  
In a time of COVID-19, where good sanitation and social distancing are critically important, just imagine the challenge of trying to abide by that when likely the better part of 100 people are using one water faucet.  
Emily, her husband Isaiah, and their three kids (11, 9, and 6 years old) live in Mathare Valley, a slum in Nairobi, Kenya.  
Emily and her family live in a 12-foot by 12-foot house with tin walls and a tin roof. 
In their one-room home, they play, cook, rest, eat, and sleep. Emily uses a kerosene stove to prepare meals. Emily and her husband sleep on the only bed. The children sleep on a mattress that they lay on the floor at bedtime.   
Emily  and her husband are faithful Christians, and Emily  serves as a member of the worship team at the OCC Church in Mathare Valley—a Bright Hope partner church.
Isaiah is a  boda-boda rider (motorbike taxi driver), and Emily  sells potato  chips  to earn a living. But due to the coronavirus,  Emily and Isaiah's businesses have suffered. Isaiah had to take a break from transporting people when the local government imposed a lockdown. And Emily now only makes $2 per day selling potato chips when she used to make $4 per day. 
Many slum residents like Emily and Isaiah have been pushed into an even deeper poverty because of the coronavirus.
When extreme poverty or catastrophic events like this threaten families with hunger and hopelessness, Bright Hope and our partner churches respond with Hope for Today initiatives. Bright Hope recently held a COVID-19 food distribution campaign to assist Mathare Valley families affected by the pandemic. Emily's  family was one of 900 families to receive food!  
"I  am very grateful for the food I received during the distribution at OCC," Emily said. "The food I received  will  cater for my family's need for about 10 days. During these days I will only need to purchase vegetables to supplement the food I received."  
This food provided much-needed nutrition for Emily and her family, who only eat two meals each day—and sometimes not even that.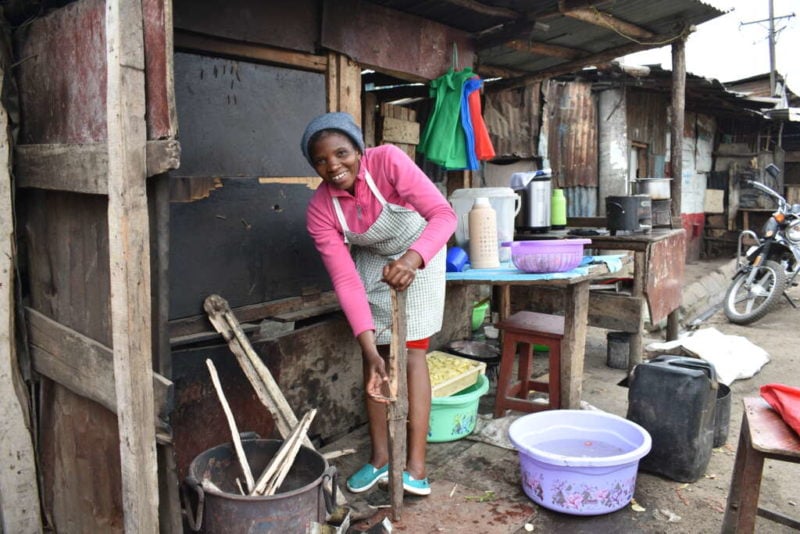 "Sometimes I would have money just enough for an ugali-maize meal but not enough for vegetables," Emily said. "Ugali" is a stiff cornmeal-based porridge that is a common staple in Kenyan cuisine.  
Pastor Makwata, one of our partner pastors who was in charge of food distribution, shared how severe the hunger is that slum residents now face: "There are families who have slept hungry during this pandemic. They lacked jobs and were unable to provide for their families. The food distribution targeted the most affected families."  
Emily and her family are SO grateful for the food distribution!  
"It is very rare to find someone who goes out of their way to support others," Emily said. "I would really like to thank those who made this food distribution possible by their giving. May God bless them!"  
  —Reporting by Lucy Kamau, Bright Hope Kenya Staff